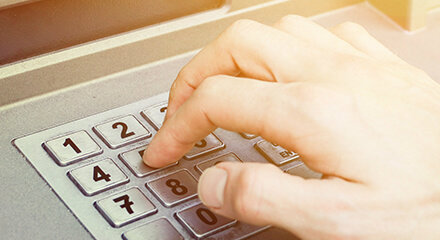 Withdraw cash — without the excessive fees! We've got surcharge-free ATMs located throughout Anchorage and around the world, so you can get cash when you need it.
Plus, when you open a Peak Rewards Checking account today, you can get up to $10 back each month in ATM fee refunds, nationwide.
So wherever you are in the country, Northern Skies Federal Credit Union has you covered!
Withdraw cash whenever you need it
Get cash using Northern Skies debit card
Branded surcharge-free ATMs located throughout Anchorage:

Dimond Costco
DeBarr Costco
Target – 100th Ave
Target – Tikahtnu

30,000 surcharge-free ATM's available world-wide with our CO-OP partnership.
Locate ATM's on the go:

Telephone | Call 1-888-SITE-CO-OP (888-748-3266).
Internet | www.co-opatm.org
Text | Text a street address or zip code or "City State" to 692667 (my coop) to find the closest CO-OP ATM locations.
CO-OP ATM Locator App