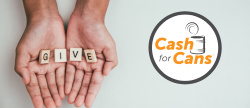 Cash for Cans
September is Hunger Action Month! We're joining together with credit unions across our state to make a meaningful impact in our communities. Be part of this statewide effort and help take action against hunger. While each credit union may support a different non profit, we are working to support the Food Bank of Alaska! We're raising funds for resources like non-perishable food items and essential supplies to nourish those in need.
You can help sponsor a meal for a local family in need for just $5!
$5 = 20 MEALS
$10 = 40 MEALS
If you'd like to make a small donation please let us know by calling us (907) 561-1407 or stopping by! Let's unite to fight hunger and create a brighter future for individuals and families across Alaska.