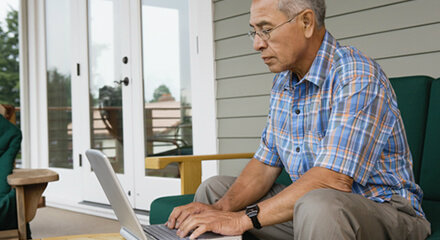 Don't be tied down to "regular banking hours" — with online banking & bill pay, you can manage your finances on your time, without having to step foot in a credit union.
From accessing eStatements to transferring funds to setting up automatic bill payment, you'll have account access 24/7, anywhere there's internet. That's a lot better than having to rush to the credit union before close, right?
Summary
Free, secure, and easy-to-use service for Northern Skies customers
Manage a number of banking activities anytime, anywhere with internet access:

Access eStatements
View account balances and history
Transfer funds between accounts (one-time and recurring transfers)
View checks written
Make loan payments
And more!

Pay one-time or recurring bills with ease*:

Schedule payments in advance
Ensure payments are received on time
Have all payee information in one convenient place
Retain funds until paper drafts are presented for payment
Avoid paper clutter
More secure than paper billing
Send personalized gift check and charitable donations

Make more time for yourself; fewer bank trips necessary
Print or download to popular financial management software
Browser Requirements
UPDATED BROWSER REQUIREMENTS as of July 2021
To ensure that you are able to continue to utilize many of the electronic services that we offer, it is essential that you ensure that your internet browsers (mobile devices as well) up to date and supported. In general, and to ensure that users keep their browsers as secure as possible, our Online and Mobile banking platforms support the last two versions of supported browsers.
Supported Browsers Page
Google Chrome: Latest 2 versions (currently Chrome 91 & 92)
Firefox: Latest 2 versions (currently Firefox 89 & 90)
Microsoft Edge: Latest 2 versions (currently Edge 90 & 91)
Safari: Last 2 major versions or 1 major version if over 1 year old (latest is currently 14.1)
Chrome for Android: Last 2 major versions (latest currently 92.0.4515.105)
Mobile Safari for IOS: Last 2 major versions (latest currently 14.1.1)
Browser Support Alert - This popup may display if the device is not using a known supported browser has been configured to account . If this happens, please check to ensure that your device is using a supported browser.
Device Support:
Windows and Apple OS X computing platforms as well as Android and IOS mobile platforms are supported as follows:
Windows: versions that are still supported by Microsoft and support a browser listed above
OSX: Versions that are still supported by Apple and support a browser listed above
Android: V6.0 and above
IOS: The last two major releases
To help you determine which browser you currently have, simply click on a link below. Then, follow the online links to update your version if need be.
eStatements
It's time to make the free switch. Trade the paper clutter for easy electronic statements. We promise you won't miss that stack of unopened envelopes.
Losing the paper trail also means gaining security. The less you leave for identity thieves, the better you can avoid being a victim of fraud. Save yourself — and the environment!
Save paper and save the environment
Fast, free, and easy alternative to paper statements
Easier to retrieve info when needed
Eliminate a paper trail
Reduce chances of fraud and identity theft
Arrive faster than paper statements
Simplify recordkeeping
Easily access past statements
Ability to download for permanent storage or print if needed
Receive email notice when new eStatement is ready
*Online bill pay (ePay) is free to all active user accounts. Active user accounts are defined as ePay accounts that have been used to pay at least one (1) bill per month. A monthly fee of $4.95 will be charged to your share draft account if the account becomes inactive or if you have not paid at least one (1) bill during the monthly period. If you have questions regarding billing please contact Electronic Services at 907-561-1407.
Manage your money — your way