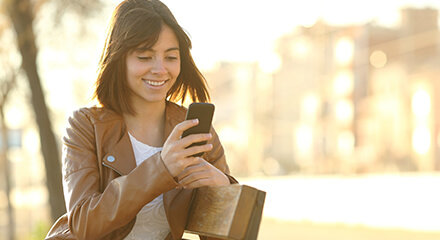 Maintain access to your Northern Skies Federal Credit Union accounts — whether you're here in Anchorage or traveling the world! With mobile banking, your finances are never more than a swipe away.
View balances, transfer funds, make deposits, and so much more all from your mobile device. Download the app to your Apple or Android device today to get started!
Summary
Fast, free, and secure service for members enrolled in online banking*
Available to all members
Easily keep track of your finances — even on the go:

View account balances
Review history
Transfer funds between accounts
Receive alerts
Pay bills
Make loan payments

Find branch and ATM locations
Available via any web-enabled cell phone or device
Utilize this service two convenient ways:
Save valuable time and effort; avoid an extra trip to a branch
FIRST TIME USERS
Northern Skies eMobile is available to Northern Skies Federal Credit Union members that are enrolled in eNavigator! online banking. If you are not a member and would like more information or are not enrolled in eNavigator! online banking, please contact us.
Mobile Deposit
That camera on your phone can do more than take selfies. In just a snap, you can deposit checks to your account right from your smartphone. No driving or waiting in line at a branch necessary — download our mobile banking app today to get started!
Deposit checks anytime, anywhere from your mobile phone
Free service for customers with a Northern Skies checking account
Save time, avoid unnecessary trips to a branch
Deposit your check in just a few quick clicks
LEARN MORE
View our Mobile Deposit Guide for a step-by-step guide of how to deposit a check with your mobile device.
Have a question? View our Mobile Deposit FAQ to find an answer!
To access the complete disclosure please view our Remote Deposit Capture Disclosure.
Should you have questions or need additional support, please give us a call or contact us at [email protected].
Browser Requirements
UPDATED BROWSER REQUIREMENTS - Effective January 2020
To ensure that you are able to continue to utilize many of the electronic services that we offer, it is essential that you ensure that your internet browsers (mobile devices as well) up to date and supported.
Here is a list of the browsers that will be supported after January 2020:
Chrome 66 and above
Microsoft Edge 18 and above
Firefox 59 and above
Safari 11 and above
Android 5.0
iOS 8.0
Windows Phone 8.1 or IE Mobile 11
Limited Support:
* Only when using Windows 8.1 or Windows 10 starting in January 2020
To help you determine which browser you currently have, simply click on a link below. Then, follow the online links to update your version if need be.
*Wireless carrier data rates may apply.
Manage your money — your way