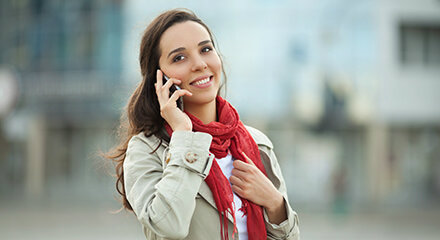 Some catastrophe has rendered the internet useless — or maybe you just prefer banking over the phone. Whatever the situation, we offer telephone banking free to all of our customers. It's hassle-free, and lets you access your accounts 24 hours a day, 7 days a week.
Make withdrawals, transfer funds, get loan information and more easily by calling the number below.
Summary
Fast, free, simple convenience for Northern Skies Federal Credit Union customers
Account access only a phone call away
Perfect for times when a computer or branch isn't nearby
Access account information 24/7 via any touchtone phone (including your cell phone):

Calculate or make a loan payment
Check account balances
Transfer funds between accounts
Request a check to be mailed to your address
Get your loan payoff amount
Verify payroll postings, deposits, and cleared checks
Make withdrawals* and line of credit advances
And more!
GET STARTED
The navigator is easy to use! Call toll-free at (888) 606-5227 to get started.
*Funds cannot be withdrawn or transferred in or out of IRAs.
Manage your money — your way